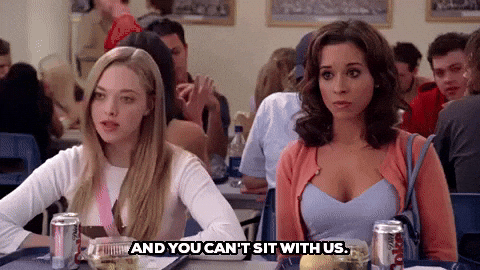 "Gina, you're wearing sweatpants...it's Monday."
"So?"
"So that's against the rules and you can't sit with us."
As women who have survived the high school lunchroom, we love to giggle at this Mean Girls quote. While it seems absolutely ridiculous, I think there's a little truth behind the laugh. I remember begging my mom to let me buy an overpriced t-shirt, just for the ½ inch of logo that would tell everyone I could afford the name brand. I can recall doing things and saying things that didn't exactly reflect my personality, just to be accepted and welcomed to sit with the cool kids.
No one likes to be excluded, but sometimes it can be so hard to stick to a set of norms and rules - especially when they don't come naturally. And while I'd like to believe that this scenario only takes place in cafeterias amongst adolescents, I'm aware that some of us have believed the lie that Christianity involves the same kind of pressure and expectations in order to avoid rejection.
You must dress a certain way, talk a certain way, look a certain way, have only a specific set of friends, never say a bad word, and stop listening to all the music you enjoy. And the moment you make a mistake or someone finds out you still like listening to Miley Cyrus, you're out of the club - unworthy of belonging.
But I want to tell you that Christianity is not an elite club of perfect robots. We are all unique, perfectly imperfect, recipients of grace.
I won't lie to you - God holds Christians to a very high standard of living. It is so important that we understand that and take it seriously. In the Bible, God has given us rules and expectations for living, with the intention to keep us safe and to give Him the glory that He deserves. But from the moment God created us, He knew we'd be incapable of meeting His high standards. So He gave us His son, Jesus Christ. Jesus lived a perfect life and died in order to accept the penalty of people like you me. But Jesus not only died...He rose from the grave!
And with Jesus' resurrection from the grave came new life for all of us. Now that He has been reborn, we can also be reborn. And this means that God is transforming our hearts from the inside out. This transformation gives us a genuine desire to follow God's rules - not because we HAVE to, but because we WANT to. Our broken, human desires die away and His Spirit is alive inside of us.
For example, I know that God intends for me to speak pure words. So when I was a new Christian, I would try to not to cuss because I knew the Bible said not to use "foul language" (Ephesians 4:29). But now...as I've been experiencing a relationship with God for a longer time, and as He has been transforming my heart, I no longer have a desire to cuss.
The change that occured is that my motive for pure speech was once out of duty. But now it is out of love. I no longer desire what I used to, because the space in my heart where those old desires used to fit is now all filled up with my love for God. His ways are becoming my own.
My life looks radically different from when I first became a Christian. And it isn't because I fell in line with an army of lifeless, rule-following, Bible-thumping church-goers. My life is different because God's love is transforming my heart - one desire at a time. It is now a joy to follow His commandments because I know they bring life and joy to my existence.
God loved me before I even knew His rules. God chose me to be His child before I could do what He commanded me. He loved me when I was a stranger to Him, and because of that love, it is a great pleasure to pursue a life that pleases Him (Romans 5:8). And I find great comfort, knowing that I will never be kicked from the table for making a mistake.
Want to know more about a relationship with God? CLICK HERE
GIF above from Giphy via Wix
#comparison #approval #identity #purpose #freedomfriday #community #friendship