Love Summer But Not Sure How to Spend It?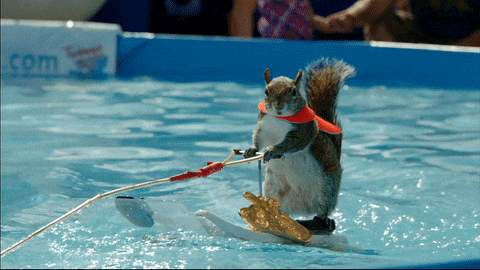 Is Summer your favorite season, yet you don't know what to do all day? Summer is my favorite season because of the warm weather, lake days, sno cones and tan lines (yes I like tan lines, they let me know I'm getting dark). Sometimes we find ourselves sitting at home all day doing not moving a single muscle in our bodies except our thumb muscles scrolling social media all day. That's no way to spend a beautiful summer day. Let me help you out with a few ideas on what to do with the rest of the time we have this summer. S U M M E R T I M E M O V I E S
I'm definitely someone who loves to go to the movie theater to see every new movie that comes out, even if I seem just a little bit interested in the trailer. It's my go-to activity when I don't know what else to do. In May, Breaking In came out, starring Gabrielle Union. Man oh man did that relate to how my mom is with me and my three siblings. I loved the suspense of the movie. It's about how a lady's (Gabrielle Union) dad passed away so she has to go to his house to pack things up and get it ready to put on the market. She went years without talking to him so she hadn't see his house in awhile. When she gets there she sees cameras everywhere and doesn't know why. Long story short without telling you the whole movie, people break in for her dad's money and will not leave until they get it. The beginning started off just a little slow, then in the middle it kept me on the edge of my seat the whole time. I talk to my movies as if I'm there and they can hear me. Overall it was very suspenseful and interesting. I would rate Breaking In as a good eight. This past June, The Incredibles 2 came out after 14 years! Being that I was nine years old when the first one came out, I wasn't sure how interested I would be with the second one after all these years. After seeing it in theaters I would rate it a solid 9. I loved it but it didn't quite relate to the first movie too much. It did catch my attention and make me laugh a lot, so make sure you watch it while it's still in theaters. It is definitely a movie I would watch more than once, with kids or adults. V A C A T I O N S P O T S & S U M M E R T I M E A C T I V I T I E S
This summer I took a vacation to Dallas, TX. I went to Six Flags over Texas. We got a group of eight friends and rented an Airbnb apartment with good reviews. I faced my fear of the Superman and a few other rides. I always told myself that I would never ride the Superman, but I wanted to be able to say that I faced my fears and overcame it. It was such an amazing feeling getting off of the ride knowing that I conquered it. The ride wasn't even half as bad as I imagined it to be. It was so much fun. At Six Flags you can spend a whole day there doing tons of different actives. We also got our group of eight to sing karaoke on stage in front of a crowd (facing more fears). It was a very hot Texas day and we could only handle it for about 5 hours. We had to get the flash pass because there was no way we were going to be able to stand in those lines in that heat. I did get a sunburn from those 5 hours because I didn't wear sunscreen (but it turned into a nice tan though, so like I said the tan lines are no big deal to me). Even though we only spent half a day there I would highly recommend taking a trip out to Six Flags over Texas (or any of the other locations) with a group of friends or family. Another, more cost efficient trip is to the River. Depending on where you live there might be a lake or ocean by you, which is great and all, but a long river is nice to spend all day at as well. I went to Arrowhead River Resort in Tahlequah, Oklahoma. It's basically a very long lazy river if you've ever been to one. There are spots in between where we pulled up into a piece of land and threw a football around. We also took a break to have a picnic on one of the sides. You can play your own music if you bring a wireless speaker. Where we messed up is that we brought a wireless speaker and a wireless charger for when the speaker dies but…we didn't charge the charger. So after about an hour our speaker died. Make sure you guys are prepared and have back ups. If you have a charged speaker you can sing out loud while relaxing on the tube. Also make sure you bring a cooler with lots of ice and water bottles so you don't get dehydrated. If you don't feel like traveling anywhere, I also like to just hang out by the pool. I go by myself with a book or with earphones in, listening to a podcast. I like to just soak up the sun and get a nice tan. I'll also take a dip to stay cool. I like to go alone because it's my alone time away, yet you don't have to travel far for it. If you like to be in group hang-outs, you can have a cookout by the pool with some friends or family. Have a pool potluck, ask everyone to bring different items needed or pitch in for some pizza (my fave). Bring a volleyball or beach ball and some water guns to make things more interesting. Oh yeah, and don't forget the wireless speaker, and a charged up wireless charger. Those are just a few summer favorites I've done so far and really enjoyed. My number one thing I could leave you with is to make sure you yourself make the best out of every situation. Always be an example of Jesus everywhere you go. You choose to be happy and nobody can take that from you unless you give them permission to. Have fun this summer, always wear sunscreen and bring back-up chargers.
WANT TO GET MORE CONNECTED?
CHECK OUT OUR DAILY DEVOTIONS...
FIND COMMUNITY IN YOUR AREA...
WANT TO KNOW MORE ABOUT A RELATIONSHIP WITH GOD? CLICK HERE